Buffalo Bed Bug Exterminators
Get Scheduled For A Quote In HOURS Not Days
We will challenge any licensed competitor's written price.
Greetings! I'm Josh, the Buffalo bed bug extermination professional that is going to get rid of your uninvited and unwanted invaders.
I'm a happy Buffalo resident that makes an honest living as a bed bug exterminator. I know it's not the most glamorous title, but unlike you, I chose to deal with bed bugs, you did not. If you're embarrassed about having bed bugs, don't be. I've seen it all when it comes to bed bugs and trust me, ANYONE can get bed bugs.
But enough about me, you need a bed bug extermination expert!
Call if you need a Buffalo bed bug professional for anything related to bed bug removals, infestations, bed bug extermination, bed bug pest control, bed bug treatment options, bed bug removal methods, bed bug heat treatment, bed bug freezing, bed bug pesticides, signs of bed bugs, bed bug detection, bed bug dogs, bed bug inspection, are there bed bugs in buffalo NY, bed bug removal companies near me……you get the point. I understand the science of bed bugs and how to effectively kill them….ALL OF THEM.
We're guilty of excellent customer service, having discreet vehicles, and having fair pricing for the service.
It is our goal is to provide with you such excellent service, that you'll recommend us to everyone you know.
Call for a free estimate or if you just have a bed bug question, we'd be happy to help you and tell you what we know.
Always trust a specialized and experienced bed bug exterminator.
Help is on the way.
GET A GUARANTEED CALL BACK      FROM THE OWNER

Buffalo Bed Bug Extermination Services We Offer:
Highly effective at destroying bed bugs & safe for your entire family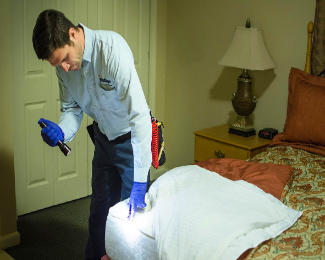 This is our complete and full treatment for maximum bed bug elimination
Heat treatment provides the single best method to exterminate bed bugs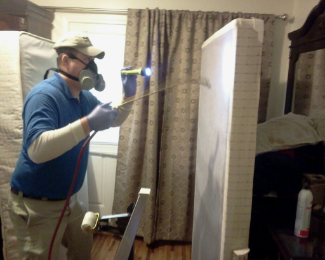 Pesticide treatments have their place in reaching those hard to reach areas that bed bugs love
Tell Us About Your Bed Bug Concern & Situation
Let's Look At Your Unique Situation Together For The Best Results
Our full faith quotes are honored for 30 days
Buffalo Bed Bug Exterminators
Buffalo Bed Bug Exterminators – Let Us Tell You More About Our Business
Bed Bug Exterminators is conveniently located on 35 E Utica St #300, Buffalo, NY. We serve both residential and commercial customers in the Buffalo area, including neighboring towns like Cold Springs, Kingsley, Masten Park, and Fruit Belt. Our inspection fee is $125 followed by any of the following services: bed bug removals, bed bug extermination, bed bug freezing, bed bug pesticides, and anything related to bed bug removal. We have more than 19 years' experience in the business, and it is our goal to create a pest-free neighborhood. With our Buffalo bed bug expert treatment, home-owners, property agencies, and landlords have saved thousands of dollars getting rid of bed bugs. Once our team detects the location of the bedbugs, we implement the most effective bed bug removal strategy to ensure a permanent solution. All our estimates are free of charge, so our clients are aware of the full cost of treatment before going ahead. This honesty has won us many positive reviews and the respect of the residents in Buffalo. Our non-invasive tools and our team will ensure that there is no property damage during the inspection. Enjoy personalized service at affordable rates when you work with Buffalo Bed Bug Exterminators. 
Benefits of Buffalo Bed Bug Exterminators
Unlike most companies that only get the job done, our team cares for you and your property. Because we are all residents of Buffalo, we treat every client as a neighbor and friend.  If you own multiple properties, we offer special Buffalo bed bug exterminator discounts for bulk services. Since we are a company who cares for the environment, we take care to follow all safety guidelines and use chemicals that will not harm you or the environment. 
Buffalo Bed Bug Exterminators Service Areas
Let's talk about Buffalo Bed Bug Exterminators services in Buffalo, NY. These are the primary locations that we can provide professional bed bug extermination. Our service locations include: 
We also service the following zip codes: 14214, 14213, 14216, 14211 
Here is our physical address in Buffalo:
If you need to find us on Google, our primary business categories are Buffalo bed bug extermination, bed bug removals, bed bug pest control, bed bug treatment options, bed bug heat treatment, bed bug freezing, bed bug pesticides, bed bug inspection and bed bugs in Buffalo New York. 
For specific services on Buffalo click the appropriate link:  
Bed Bug Exterminator Buffalo, New York
Bed Bug Exterminator Buffalo NY and Its Importance
If you are repeatedly experiencing small bites on your skin, you may be wondering if they are caused by bed bugs. Unfortunately, bed bug bites look much like any other insect bite. They also cause the telltale itchiness of other insect bites, which often lead people to be uncertain of which creature their bite was caused by.
In order to further investigate whether you may have bed bugs, you'll need to explore areas that bed bugs typically live; on mattresses and bedsheets. If you have bed bugs, then it is likely you will have some stains from them on your bedding. Dark red or brown spots on bed sheets could be bed bug excrement, while more scarlet red spots are bloodstains.
Other signs to look for are offensive odors in the bedroom. A bed bug's scent gland produces a musty smell, which can linger in the room, and be particularly strong around the bed area. You could also investigate the places where bed bugs hide.
Bed Bug Exterminator Buffalo NY – First Signs of Infestation
If you have a suspicion that you might have a case of bed bugs, or if you have found some signs of bed bugs potentially hiding in your home, call your local Buffalo bed bugs expert for a full inspection, our inspection fee is $125. As professional bed bug exterminators, we'll be able to locate even the sneakiest of bed bugs and put a bed bugs treatment plan in place to effectively eliminate them. Our bedbug exterminator estimates are free of charge, so you can be aware of the full cost of treatment before you make the decision of whether to go ahead with it.
Bed Bug Exterminator Buffalo NY offers…
We offer a fast bed bug inspection, followed by bed bugs treatment to both residential and commercial customers in the Buffalo area. Bed bugs are a problem that affect many households, so if you are personally suffering from a bed bug infestation, then contact us and let us help. We can give you and your family a peaceful night's sleep in the assurance that bed bugs are not sharing your bed. When you need Buffalo "bed bugs exterminator near me", call us for effective, quick, and discreet help.
Call Us
We are also able to offer our Buffalo bed bug expert treatment to multiple property owners, property agencies, and landlords. Keep your property management costs down with our special Buffalo bed bug exterminator discounts available for servicing properties in bulk. As your chosen Buffalo bed bug exterminator, we can save you thousands of dollars, as well as keeping your tenants happy and continuing to pay their rent without complaint.
We have a step by step bed bugs extermination process that we follow to ensure the elimination of 100% of bed bugs in your Buffalo home or apartment.
To start with, our highly trained bedbug exterminator specialists will inspect your property. The inspection will focus on the bedroom, but will also cover the rest of your home, as bed bugs can spread around the house. In the bedroom, your inspector will primarily be looking in places that bed bugs like to hide, such as along the seams of your mattress, as well as other narrow gaps: between your mattress and headboard and behind furniture that is located close to the bed.
Bed Bug Exterminator Buffalo NY and Other Processes
Soft furnishings around your property will also be inspected, such as blankets, rugs, and curtains. If necessary, special tools may be used by your Buffalo bed bug pest exterminator to help locate and identify bed bugs. Our non-invasive tools and our careful exterminators will ensure that no damage occurs to your property during the investigation.
If a bed bug pest infestation has been confirmed, we will recommend a program to exterminate them. The program will be tailored to your own personal situation, and will reflect how severe the infestation is. We will discuss the options with you and consider your preferences before recommending the best program for your needs.
Upon agreeing on an extermination plan, we will proceed to implement it, ridding your home from all live bed bugs, as well as exterminating the larvae. This is important to prevent a re-infestation from occurring.  
Call Us
After a successful bed bug pest removal, our final step is to follow up with you for maintenance. Bed bugs infestations can be extremely tricky to completely eradicate. In the event that your bed bugs re-emerge following your initial treatment, we will work together to ensure that every last bed bug is removed. Our Buffalo bed bug pest exterminator will also provide helpful information and recommendations to prevent a re-infestation occurring.
When you're looking for a reliable "bed bugs exterminator near me", look no further.
Bed bugs are approximately the size of an apple seed. They don't have wings and can therefore not fly, but can be transported around on clothing or bedding. Infant bed bugs are clear and almost impossible for the naked eye to detect, while adults are a brownish orange color.
Bed bugs multiply quickly. A fertilized female will lay 3 to 4 eggs every couple of days. Eggs hatch in just a few weeks, with the baby bed bug then maturing to adult size in 6 to 8 weeks, when it then plays a part in the creation of more eggs to continue the multiplication cycle. A handful of bed bugs can become an infestation of over 10,000 in the space of just a few months.
Bed bugs feed on blood, and find human blood preferential. If they cannot find a human, then they will settle for an animal, such as a pet dog or cat. They feed during the night for 5 to 10 minutes at a time, injecting the skin with an anaesthetic and biting several times in one feed. While bed bugs feed every one or two weeks on average, they can survive up to a year on just one feed, making them incredibly resilient.
Bed bugs live between 10 months and 1 year. The female will lay approximately 300- 500 eggs in her lifetime.
Bed bugs are known to carry up to 27 diseases, including HIV and Hepatitis B. Fortunately, humans are very unlikely to be infected with such conditions from a bed bug. The most common physical ailment by bed bug sufferers are itchy bites that can result in secondary infections when people scratch them. Bed bugs are also known to create anxiety in some people, as well as psychological distress.
Following the introduction of insecticides in the mid 1900's, bed bugs were mostly eradicated in the United States. We have seen infestations reappear since the 1990's, with the increase in international travel and immigration being considered as the main reason for this.
Bed bugs are mostly found in the bed of their host. Around two-thirds of a bed bug pest infestation will be present in and around the bed, while the remaining third will typically be located on upholstery and other soft furnishings around the home.
What to Do if You Suspect a Bed Bug Pest Infestation?
Call us, your local Buffalo bed bugs exterminator, for a bed bug pest inspection. Our inspection fee is $125.
Clear your home of clutter to enable your bed bugs exterminator to work more efficiently. Clutter provides lots of hiding spaces for bed bugs and makes them more difficult to locate.
Keep evidence of any bed bugs you find, and present them to your bed bug pest exterminator. One way to retain them is on a clear piece of sticky tape, in a plastic container.
Don't get rid of your furniture. This will not get rid of the bed bugs, and only cost you to replace your items unnecessarily.
Don't move to a different room to sleep, or move items out of the infested bedroom to another room. This will spread the infestation.
Don't use foggers or try to solve the problem yourself. Home remedies are usually unsuccessful and will prolong the problem, causing it to worsen. While you may be wary of the bed bug pest Buffalo exterminator cost, treating it yourself will only cost you more in the long run. Instead, call a professional bed bugs exterminator to get rid of the problem as quickly as possible.
How We Remove Bed Bug Pest Infestations
Bed Bug Exterminator Buffalo NY and Its Tenants

As your Buffalo bed bugs expert, we use an array of treatments to attack your infestation, adapting which techniques we utilize depending on your specific circumstances. We know the safety and well-being of your family is your main priority, and, therefore, we will talk through our various approaches with you to ensure you are comfortable with our treatment plan. In most instances, we will use various methods on a single property to eliminate 100% of your bed bugs. Of course, the bed bug pest Buffalo exterminator cost can vary depending on which treatment you need.
One of the most effective methods we use is bed bug heat treatment for Buffalo homes. High temperature steam is applied to the entire mattress and bed, specifically focusing on seams, creases, and small gaps where bed bugs hide. The bed bug heat treatment will destroy the bed bugs and their eggs on contact.
Bed Bug Heat Treatment Buffalo
Our specialized steam machines produce a dry steam, which will leave less moisture in your air and on your furniture than standard steamers. Our thermal approach is especially popular because it gives immediate relief to the home's inhabitants. It means that your family or your tenants can go home to the property on the same day. It also requires no use of chemicals, making it incredibly eco-friendly and safe for the environment. Call our Buffalo bed bugs exterminator to find out more.
Another treatment method we use alongside other methods is high-power vacuuming. We vacuum all areas where bed bugs are typically prevalent. This will remove live bed bugs, their skins, eggs, and excrement from your furniture and upholstery. Our specialist vacuum filters ensure an efficiency of over 99% of particles in the exhaust air. Vacuuming will not remove all bed bugs, so it is used amongst others in ridding your home of bed bugs. The plus point of high-power vacuuming is that it is a quick and effective way to physically remove a large part of the infestation from your home. We can vacuum before and after other treatments for added efficiency.
Other Methods
Freezing bed bugs is another environmentally friendly way to eliminate an infestation in its entirety. This non-toxic treatment destroys the insects and their eggs after contact with a snow-like substance. It can be used alongside heat treatment, with heat being more suitable for some surfaces than the dry ice.
Encasements can be used for bedding, mattresses and box springs. This treatment traps any newborn bed bugs in casing, in which they cannot survive.
A bed bug dust application can be applied to various areas of your home, such as cracks in the floor, near baseboards, and other hard to reach areas where bed bugs may be residing. This special dust is made from diatomaceous earth, and is popular because it is eco-friendly. However, it is not a solution on its own to remove bed bugs and must be used in conjunction with vacuuming, heating, or freezing.
We will thoroughly treat all areas of your home, which will involve removing outlet covers and light switch covers, and lifting the edges of carpets to find any well-hidden insects. Any bed bugs we find will be frozen or treated with heat or dust.
Bed Bug Pesticides
Pesticides can also be used, though they are generally less successful for our Buffalo's bed bug pest exterminators than thermal or freezing methods, and take much longer to completely destroy your bed bug infestation. While bed bug heat treatment will give you immediate relief from bed bugs, pesticides will take around thirty days to take full effect. This is because pesticides will only kill the live bed bugs and not their eggs, meaning the eggs will continue to hatch and you must then wait for them to ingest the pesticide for it to destroy them. The bed bug pest Buffalo exterminator cost of pesticide is lower than other treatment methods, so it may be an attractive option for those with a lower budget.
GET A GUARANTEED CALL BACK      FROM THE OWNER
Guaranteed Bed Bug Extermination
Top 5 Things to do in Buffalo, New York
Whether you are a visitor or a resident to Buffalo, here are our 5 top things to do in Buffalo:
1. Visit Endangered Species at the Buffalo Zoo. For all animal lovers out there, the Buffalo Zoo is a place to visit. Founded in 1875, it has been providing education for thousands of visitors for over 150 years. The Zoo has a wide range of wildlife to enjoy from polar bears to sea lions- there is something for everyone. The Zoo also has exhibits that showcase some of the world's endangered species.
2. Try Visiting Downtown Buffalo on a Segway. This unique tour takes you away from the conventional means of transportation and allows you to experience something different. The Segway tour will take you to all the notable Buffalo landmarks allowing to you admire the sites from a different view. This tour is perfect for anyone who wants to try something out of the ordinary and still get a tour of the city.
3. Take a Sailboat ride on the Buffalo Canal. The Spirit of Buffalo is a 73-foot vessel with red sails. The sailboat was built in 1992 and gives visitors the chance to take a ride back in time. There are wine sampling tours for grownups and pirate games for kids.
4. Have a romantic picnic in Delaware Park. Located nearby the Buffalo Zoo and Albright-Knox Gallery, the Delaware Park is the perfect place to relax and take a break from all the sightseeing. The park is divided into two sections- the Meadow Park and the Water Park. There is so much to see in this one location, and you can spend the entire day relaxing.
5. Take a hike to see the Eternal Flame. Hidden in one of the Shale Creek Preserve's waterfalls, hikers can take an exciting trek to this spot. Inside the rock face of Eternal Flame Falls is a natural gas leak that causes a fire that never goes out. This hike is one of the unique things you can do in Buffalo.
To visit Buffalo Bed Bug Exterminators from Buffalo Niagara International Airport to 335 E Utica St #300, Buffalo, NY, follow these directions: 
1.Head west 
2.Continue straight onto NY-33 W 
3.Exit onto Humboldt Pkwy 
4.Turn right onto E Utica St 
5.Turn left 
6.Destination will be on the right